Formerly The Plumbing Store.
AZ Super Plumber, formerly The Plumbing Store, has been serving residential and commercial clients for more than 30 years. Our experienced plumbers can assist with everything from drain cleaning to professionally installed water heaters. Let our Super Plumbers come to your rescue!
Since 1988 AZ Super Plumbers has been entrusted by thousands of Quad-City residents with their most valuable possession – their home.  We take this responsibility very seriously.
Our philosophy of uncompromising commitment to the highest possible levels of integrity, technical expertise and superior customer service is the cornerstone of our company.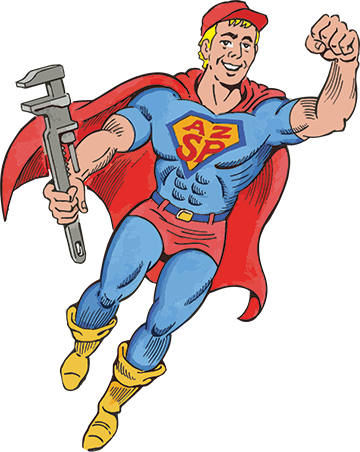 YOU'LL KNOW THE EXACT PRICE IN ADVANCE!
We've all been through it before. You hire a company to do service or repairs in your home. You get an estimate and the works takes longer than expected because the tech had to make several trips to get parts, materials and tools. Finally the work is finished and you get the bill. Surprise! It's way more than the original estimate.
At AZ Super Plumbers, we know there's a better way. Upfront Pricing. We charge by the job . . . not by the hour and there's never any surprises when the job is completed.
When your Super Plumber arrives at your home, he listens to your needs, provides solutions and an exact price. The price we quote is the price you pay. By removing the clock factor our professionally trained Super Plumbers take the time necessary to make sure the job is done right. The work area is thoroughly cleaned and the final price is exactly what we told you it would be. No surprises. No hidden fees. No gimmicks. No kidding!
Any work AZ Super Plumber performs in your home is guaranteed for one year. If the work is not up to your expectations we will return to your home at a time that is convenient for you and make things right at no charge.
If you're not satisfied with any aspect of our work or products we want to hear from you. Call us. We'll quickly respond to your concerns and make certain everything is completed to your liking and that you're 100% satisfied.
Check our blog for the latest news and innovations around plumbing, water heating, water treatment, and much more…
Yavapai County, AZ: You've probably seen the cartoon style blue trucks with the large superhero plumber going down